Turn bath time into a fun and educational experience: Drop the egg-shaped bath bombs into the tub and watch it burst with color while releasing a unique dinosaur model into the water.
Convert your tub into a fizzy dino world: Includes 6 uniquely-colored egg-shaped bath fizzies (4.66 oz) each with a different dinosaur buried inside, and 6 beautiful cards, each describing the history of a different dinosaur. After revealing a dino, try to match up the appropriate card to your dinosaur and learn more about it.
100% safe: All the bath bomb ingredients meet or exceed all safety standards and are 100% safe to put in your child's bath.
A fun and educational gift for all ages: It's not often that a science project can be fun and engaging, but this set achieves both! Great set for individual play or as a group activity. It fascinates children as soon as they pull it out of the box and is a perfect STEM project. It fosters a love for science and paleontology in a fun and exciting way.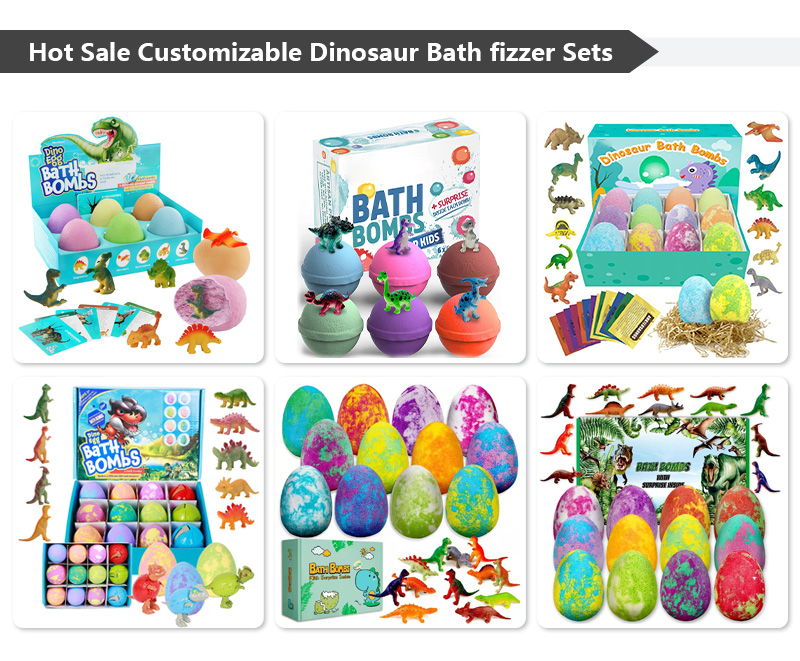 ---
Review by Customer A:
Best Toddler Present
My daughter loves dinosaurs and bath bombs, so this set was just perfect! She got so excited every time she took a bath and the colors and scent were great.
---
Review by Customer B:
3 year old approved
I sent these to my 3 yr old nephew as a little surprise just because. He sent me a video telling me how much he loved his dino eggs and colored bath water. This is a perfect gift or just something fun to make bath special for the little ones in your life. I'll definitely order these again as gifts.
---
Review by Customer C:
GREAT GIFT FOR THE KIDDOS
I bought this as a gift for my nephew whose 6 years old. He loved the bath bombs and used them up pretty fast. Everyday he'd pick one out and when my sister ran the bath water, he would throw the egg in the tub early just to quickly get to the dinosaur lol I'd say it's a perfect self care gift for the kids! All of the bath bombs came in great condition and smelled good. He wants more, so I'll be repurchasing.
---
Review by Customer D:
Great gift for 4-year old boy
We bought this as a gift for our grandson. He loved it in his bath and loved getting a dinosaur from the bath bomb! When a kid loves a gift, we are happy!
---
Review by Customer E:
Kids want more!
My kids love them and have asked me to get more. Nice fizz and the smell is yummy. Didn't leave a oil on the tub but left my boys very soft. Didn't stain anything. Definitely going to buy again.